"Uncover the Vibrant Secrets of Berlin: Your Ultimate Guide to Exploring the Capital"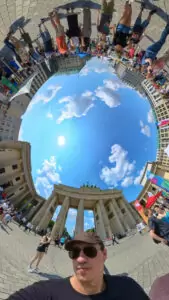 Welcome to my Berlin travel blog! Here, you'll find everything about my annual adventures in the most exciting city in Germany. Berlin has something for everyone, from breathtaking architecture to vibrant nightlife. But enough talk, let me tell you why I embark on my pilgrimage to Berlin every year, as if it were my sacred travel duty.
So, I pack my bags, grab my guidebook, and set off for the capital. Berlin is like a giant treasure chest, filled with countless activities. And you can bet I activate my inner explorer mode each year anew.
One of my personal highlights is the "Currywurst Tour." Yes, you heard that right—I actually go on a tour to find the best currywurst in Berlin. Once a year, I indulge in this gastronomic challenge, dedicating myself to the quest for the juiciest, spiciest, and simply divine currywurst that this city has to offer. I mean, you've got to set priorities, right?
Of course, there are many other activities I enjoy during my Berlin trips. I visit museums to nurture my artistic side, explore the city's history along the Berlin Wall, and dive into the thrilling nightlife as if there were no tomorrow. Even though I do the same things every year, there's always something new to discover and experience. Berlin is like an endless labyrinth full of surprises.
So, whether you're a Berlin newbie or know the city like the back of your hand, my blog will entertain you with funny anecdotes, insider tips, and maybe even a few embarrassing travel photos. So buckle up and let's wander through the streets of Berlin together. It'll be a journey filled with laughter, discoveries, and probably a few too many currywursts. Welcome to my world of Berlin adventures!